Dr. Benjamin Taimoorazy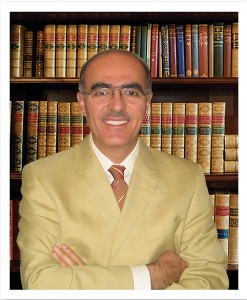 Dr. Benjamin Taimoorazy has been elected as a Fellow Member of the American Headache Society (FAHS) at its 54th annual meeting in July of 2014 held in Los Angeles, California. Fellow of the AHS (FAHS) is a position of honor and recognition and reflects acknowledgement by peers of high professional and scholarly achievement, integrity, outstanding professional maturity, and superior competence. Fellow Members of the American Headache Society, handpicked based on academic and research merit, must have United Council for Neurologic Sub-specialties (UCNS) certification in headache medicine.
Trained to treat and care for all varieties of chronic painful disorders, Dr. Taimoorazy is the only interventional pain management anesthesiologist in the state of Illinois that is sub specialized and board certified in the field of headache medicine by the United Council for Neurologic Subspecialties (UCNS). Currently there are only six other physicians in the United States and North America that hold this combined sub specialty certification. Dr. Taimoorazy is also board certified and is a diplomat of the American Board of Pain Medicine (ABPM), the American Academy of Pain Management (AAPM) and The American Board of Anesthesiology (ABA).
Dr.Taimoorazy is a clinical instructor of surgery at University of Illinois in Champaign/Urbana and a member of the nerve block registry of the AHS. In conjunction with the American Migraine Foundation, his practice, the Guardian Headache and Pain Management Institute, is one of the few sites in the nation that is actively involved in prospective research studies on the outcomes of interventional management of chronic headaches. The results of these studies have been presented at the International Headache Congress and international spine intervention society meetings in Boston, MA and New York, NY. He also serves on the research committee for the Central Illinois Neuroscience Foundation of Bloomington, Illinois where he has been a member since 2011.
A recipient of Robert D. Dripps, M.D. award, Dr. Taimoorazy is involved in educating medical residents and serves on different committees for improving delivery of healthcare services to patients.  For the past twenty years he has been involved in the care of a wide variety of chronic and acute painful conditions while serving as the chairman of Anesthesiology Consultants, LTD.  Recognizing a need in the community for specialized headache and pain management treatment, Dr. Taimoorazy established the Guardian Headache & Pain Management Institute in March of 2011. He is the inventor of the non-invasive, externally applied NapasTM airway management device used to improve breathing under anesthesia. In 2006 he was voted physician of the year by the employees of the Advocate BroMenn Medical Center in Normal IL.
Dr. Taimoorazy is the author of Before You Go Under, a step-by-step guide to ease your mind before going under anesthesia. In this manuscript he strives to provide patients with enough information regarding the anesthetic and pain management process concerning surgical procedures
Why choose Guardian Headache and Pain Management Institute?
An appointment with our institution will not be just another office visit to see a doctor. It will be a new beginning. Start of a journey and a quest for relief from the unrelenting and agonizing pain and suffering. The implementation of multidisciplinary approach, allows treatment of the physical, emotional, behavioral, vocational, and social aspects of the pain in a more effective manner. It is crucial to emphasize that in this journey members of our medical staff will be with you to guide you every step of the way. High on the list of priorities at the Guardian Headache and Pain Management Institute is patient education. Misconceptions about nature of the pain and its significance will be dispelled. You may have had many opinions from doctors and other health care providers. There may be variable information and a lot of misinformation.  Through patient education it will be our commitment to unveil the mysteries and clear the air from confusion. Our objectives at Guardian Headache and Pain Management Institute are plain and simple:
-To decrease subjective pain experience
-To increase general level of activity
-To decrease drug consumption and finally
-To return to employment and full quality of life